What to Look For In A Mold Remediation Company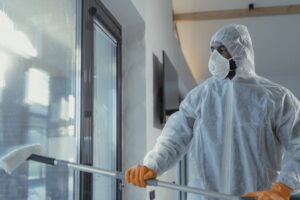 A good mold remediation company can save your home — and your family's health. Avoid risks and rookie mistakes by hiring home restoration experts with expertise and equipment to tackle mold issues.
This, however, is easier said than done when you're dealing with a severe mold infestation for the first time. Or, you're in a rush to restore and renovate a house on sale.  Whatever the situation is, you should sit down and go over your options before hiring a professional.
Lucky for you, we made a checklist of sorts to streamline your search for the best mold remediation company in Austin. Use this goal-oriented assessment to choose the right person for your mold removal and remediation project.
Here are some important questions to ask your service provider:
Q1.  Is The Company Insured and Certified?
When it comes to home restoration services, you should get professionals with liability insurance.  This policy allows service providers to deal with potential health hazards caused by  water damage problems such as molds, mildew, and other types of infestations.  It also provides them with the necessary coverage to mitigate risks caused by working on a mold infestation.
Apart from that, all technicians involved in a mold remediation project must have extensive training.  Ask them about their IICRC status. Having an IICRC (Institute of Inspection, Cleaning, and Restoration Certification) indicates the team went through the required training and testing for mold removal and remediation.
Every reputable home restoration company ensures that its employees have relevant qualifications and training for mold-related services. Make sure your potential service provider has all the documents before you proceed.
Otherwise, you might wind up with unfinished remediation and lingering mold that can lead to another infestation.
Q2.  Do They Have Any Experience in Dealing with Home Restoration Services of This Nature? 
Molds release thousands of spores, and you want to get rid of each one. It begins with small black specks around drywalls, sidings, and ceilings before causing evident discoloration. Wood rot, dampness, and poor air quality are other signs of mold. Finding an experienced technician maximizes efficiency and limits risks associated with mold issues.
Often, a certified mold remediation company might not have the experience required to deal with extensive infestations. Possible reasons include their limited years of experience and young staff.
We recommend hiring mold remediation experts that have sufficient experience in this area.
You can assess their skills based on answers to the following questions:

How many houses did you restore in the past three years?
How many mold-related projects have you worked on?
Have you seen a mold infestation as extensive as this (i.e., the one in your house)?
Use their answers to determine whether or not they're right for your current needs. You can read customer testimonials and compare two or three other local mold remediation companies as secondary options. Conducting thorough research will give you the confidence to choose the best service provider in your area.
Q3. Does the Team Wear Protective Gear During Mold Remediation?
Mold infestations are not common maintenance issues.  They are health hazards that can lead to mild respiratory issues (i.e., stuffy noses, coughing, and itchy throat) to major health problems such as asthma. Skin rashes and irritation in the eyes are other problems you might encounter while experiencing a mold infestation.
A good mold remediation company understands these risks. That's why they will not only categorize mold as a health hazard but take all possible safety measures for this project.  It includes wearing hazmat suits, thick rubber boots, masks, and protective gloves during cleanup.
More importantly, their safety protocols will guarantee that the technicians will work meticulously on this job.
Q4.  Do They Offer Free Mold Evaluations?
A pre-remediation analysis will give you a clear picture of the logistics and cost of this venture.  Subsequently, it ensures that workers come prepared with the appropriate equipment and gear to restore infested areas.  For example, these diagnostic evaluations will tell them all about the number of mold spores, type of toxic spores, and level of infestation.
They must run a similar test after mold remediation as a comparison. These test results will serve as a guarantee that your house is mold-free after service.
Parting Words
In the end, working with a mold remediation company can turn into a nightmare if you're not careful. Use our checklist to hire the right home restoration experts in your area. Ask them about insurance policies, certification, and qualifications. Look at the team's experience and safety protocols to ensure that they are taking their job seriously.
Hire home restoration experts that tick all these boxes.
Are you looking for a mold remediation company in Austin?
911 Restoration takes great pride in being a top-rated mold remediation company in Austin. We have a team of IICRC certified experts who have years of experience in this area. We offer cost-effective mold removal and mold remediation services for residential and commercial projects.  We have assisted hundreds of clients with our streamlined operations and utmost cooperation.
Contact us today for further details.