Fire Damage Restoration in Austin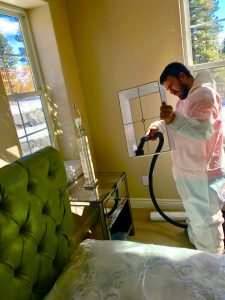 If you're calling us for fire restoration in your area or smoke cleanup, you're not having the best day. You probably feel overwhelmed. You may feel like your greatest asset is lost to you completely. Or maybe you feel like all the hard work you put into creating a refuge was for nothing.
We understand how you feel, and we promise: a Fresh Start is possible. In fact, with 911 Restoration on your side, a Fresh Start is inevitable.
Our IICRC certified fire damage restoration crew provides full service cleanup and repairs following a property fire or puff back. We also offer smoke cleanup and smoke damage restoration in Austin, if your property is tainted with cigarette or cigar smoke. These technicians have completed extensive training to provide high-quality, comprehensive service. They do everything from soda blasting and smoke removal to major structural repairs.
We make Your Life Easier
911 Restoration of Austin is locally owned and operated. We design our business structure to ensure your peace of mind every step of the way. This starts with our free fire damage assessment (for property owners only) and a free insurance consultation. We provide a fire restoration expert to assist with claim filing and direct billing. We also ensure all members of our smoke removal and fire cleanup crew approach their work with compassion. They communicate clearly and work with transparency, so you always understand what's happening, why, and what it means for you financially. We know a property fire creates a whirlwind of questions. Consider us your fire information center, here to provide clarity and solutions.
We serve both commercial and residential properties with fire and smoke cleanup in Austin, Dripping Springs, and Manchaca. We are licensed, insured, and bonded.
This may be your darkest hour, but a bright new beginning is just around the corner. Call us at (512) 729-6436 and please allow us to offer you a free visual inspection. We provide you fire damage restoration in Austin.
The Fresh Start Fire Damage Company
911 Restoration is known from coast to coast as the Fresh Start Company. This is because we believe every disaster is an opportunity to rebuild better than ever. You see this dedication to full property restoration in the service we provide. 
Our workers begin the fire damage restoration process by packing out and storing any unharmed belongings. They do this to ensure those items will not be damaged during the smoke removal process.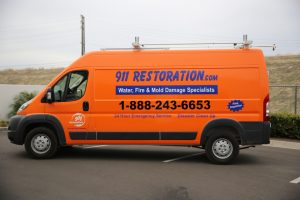 In most cases, smoke cleanup includes soda blasting to remove soot and ash from surfaces. Our fire restoration crew also cleans furniture and dishes to ensure all evidence of smoke damage is gone. Odor removal is often a natural side effect of smoke removal, as cleanup eliminates odor-causing particles. However, our technicians may need to perform additional services to ensure complete and permanent odor removal.
If the fire department soaked your property, our fire cleanup crew conducts water damage restoration. This includes water removal, structural drying, and any necessary mold remediation.
When it comes to major property repairs, you do not need to deal with additional contractors. Our fire cleanup crew handles everything from roof replacement to drywall repair. 
As you can see, our team does whatever it takes to make your home or business strong and clean again. All it takes is one call to make a full recovery from fire and smoke damage.
For full-service fire restoration in Austin and the surrounding area, call us at (512) 729-6436 and learn how we can help you. We provide full-service for fire remediation in Austin.
What is the Cost of Fire Damage Restoration?
The cost of fire cleanup and smoke removal varies depending upon the needs of your unique situation. What we can promise you is this:
We work hard to keep your costs low. We also answer all your questions upfront and make sure you go into the fire restoration process with eyes wide open.
First, a fire and smoke cleanup expert provides a free fire damage assessment (for property owners only). They examine the damage and explain what it will take to fully restore your home or business. This staff member walks you through all your options, empowering you to make the best choice for yourself and your property.
Then, we provide a free insurance consultation. A team member discusses your insurance policy with you, explaining which services your provider covers. From odor removal to smoke cleanup, you know exactly what to expect. We also assist you with inventory and loss itemization. We file your claim for you and bill your provider directly. 911 Restoration works with all types of insurance.
We know this is a trying time. Whether you're ready to hire us for fire damage restoration services or you just need a little clarity, we're here for you. 911 Restoration is the best service provider company in over all IICRC certified fire restoration companies in Austin.
Call us at (512) 729-6436 and learn how we can help.