Disaster Restoration in Austin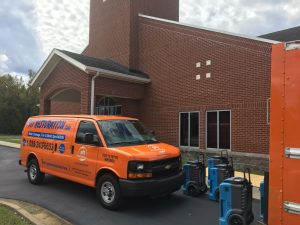 If you've been struck by a sudden property disaster, just take a deep breath and call 911 Restoration of Austin.
Our emergency restoration and water removal crew is here for you day or night, 365 days a year. We guarantee an arrival time of 45 minutes or less, so you can rest easy knowing help is on the way.
It doesn't matter what type of disaster you're going through. Our IICRC certified disaster restoration staff handles everything from floods to fires. Each technician has been thoroughly trained to address every one of your needs, including flood cleanup, smoke removal, mold remediation, structural repair, and storm restoration in Austin.
When one of our neighbors calls us for disaster restoration in Austin, Dripping Springs, and Manchaca, we come with one goal in mind. We want to give you a Fresh Start. That's why our service extends well beyond basic cleanup. When we leave your property, we leave you with a home or business that feels brand new.
911 Restoration of Austin is locally owned and operated. We believe in serving our neighbors with compassion, working hard to deliver peace of mind as well as quality restoration. This is why we provide a free visual inspection (for property owners only) and a free insurance consultation. Half the stress of disaster restoration comes from not knowing what to expect. Our team does everything possible to offer clear answers from the very beginning. You know what we plan to do to your property, how long it takes, and what it will cost. We also do all we can to minimize your expenses and work swiftly so you can get back on your feet.
Our company is licensed, insured, and bonded. We serve both business and residential properties in Austin and the surrounding cities.
For fast disaster restoration and a Fresh Start, call us at (512) 729-6436, and please allow us to offer you a free visual inspection. We provide you storm damage repair and storm restoration services in Austin.
Residential and Commercial Emergency Restoration and Water Damage Repair 
Whether you own a home or a business, you can count on 911 Restoration for swift response times and immediate service.
Our emergency restoration experts are standing by, ready to provide water removal and other urgent services at a moment's notice. Even if you need water damage restoration in the middle of the night, our workers will be there in 45 minutes or less.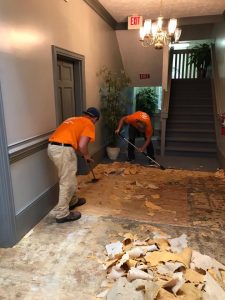 While water damage restoration is not the only service we provide, it is the most common. Even fire cleanup sometimes calls for water removal, as the fire department may flood your property with the fire hose. 
Water damage is also a uniquely urgent form of property destruction. The structures of your home or business soak up moisture like a sponge. The longer water lingers, the higher your chances of developing mold, rotting, or other costly problems.
Our water damage restoration staff works quickly to eliminate water in any disaster scenario. They also go to great lengths to prevent any avoidable destruction. Before they begin the water removal process, our emergency restoration crew packs out and stores any belongings that might be in harm's way. After water removal, they dry the area thoroughly to minimize the risk of long-term water damage.
If you need disaster restoration in Austin, Manchaca, or Dripping Springs, choose the contractor who takes your emergency seriously. Call us at (512) 729-6436 and learn how we can help you. We provide full-service for hurricane restoration in Austin.
Clarity, Compassion, and Comprehensive Disaster Restoration
Our disaster restoration crew seeks to not only repair your property, but to lift your spirits as well. We know this is a trying time, and we're here to provide the answers and solutions you need for a new beginning.
First, count on 911 Restoration for full-service disaster restoration. In addition to covering basics like water removal, smoke cleanup, and sewage extraction, we also manage extensive repairs. Whether you need a new roof, drywall replacement, or mold decontamination, our experts have it covered.
We also offer a free visual inspection (for property owners only). This zero-obligation service helps you get a grip on the situation. A disaster restoration specialist explains what it will take to fully restore your home or business. They talk through your options and share their professional perspective so you can make the right choice for your property.
Once a strategy for restoration has been determined, we offer you a free insurance consultation. Whether you need water damage restoration or fire restoration, you may not know exactly which services your provider covers. An emergency restoration specialist takes a look at your coverage and explains your policy clearly. They also provide assistance with loss itemization, file your claim for you, and bill your provider directly. 911 Restoration of Austin works with all insurance providers so we can offer our disaster restoration services to all our neighbors in Austin.
At a time like this, clear guidance is everything. Count on our IICRC certified 911 Restoration team to make this challenging ordeal as painless as possible.
For full-service disaster restoration, call us at (512) 729-6436 and learn how we can help.
Serving the communities of Austin, Barton Creek, Dripping springs, Downtown Austin, Manchaca, Pflugerville, Travis Heights, West Lake Hills and surrounding areas.