Disaster Restoration
Hurricanes, tropical storms, fires, and floods can all strike suddenly, leaving behind massive amounts of damage to local homes and businesses. When disaster strikes, you can get the help you need by contacting 911 Restoration of Austin.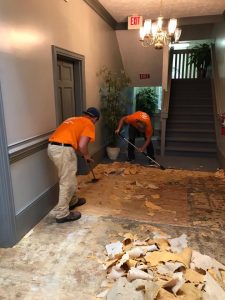 Handling a disaster requires immediate action. That's why 911 Restoration of Austin provides around-the-clock service. You can count on help within 45 minutes of an emergency call if your property is in Austin, Manchaca, or Dripping Springs.
911 Restoration of Austin believes that you deserve help right away. We won't just stand by and let your property suffer additional damage in a disaster situation. During a storm, we can offer you:
Emergency Storm Repairs
Emergency Boarding Up
Emergency Roof Repairs
You can even count on 911 Restoration of Austin to pack out and store your belongings so they are not ruined by the disaster you are facing. Getting emergency help right away can limit the amount of damage your property experiences during a disaster, minimizing your restoration costs.
911 Restoration of Austin can also help you handle manmade disasters. Sewage backups and burst pipes can flood your home or business with tremendous amounts of water. Fires can wreak havoc in a matter of moments.
Our staff of licensed, bonded, and insured technicians can take care of disaster restoration after any of these emergencies. You can trust us to work tirelessly to return your property to better-than-new condition after a disaster. Contact us right now to get same day services anywhere in the Austin area.
Let Us Handle Fire Damage and Water Damage in Austin
Water damage emergencies and fires are some of the most common property disasters seen around Austin, Dripping Springs, and Manchaca. Property owners may deal with flooded basements caused by hurricanes and other storms, or the destruction of an fire.
911 Restoration of Austin can offer restoration services after any disaster. Our technicians are IICRC certified to handle:
Water Extraction
Drying and Dehumidification Services
Smoke, Soot, and Ash Removal
Total Property Reconstruction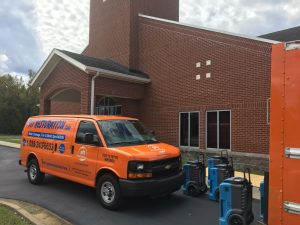 Let us focus on your unique needs with a free visual inspection for property owners only. You can also take advantage of a free insurance consultation if your property experienced a fire disaster. We understand what it takes to rebuild and recover from a property disaster.
Recovering from a disaster can involve checking for structural damage and looking for new leaks that might have been caused by flooding or a fire. 911 Restoration of Austin can thoroughly assess all the damage to your property in order to come up with a focused disaster restoration plan that is designed to return your property to the pristine condition you deserve.
Here at 911 Restoration of Austin, increasing your peace of mind is always one of our main goals. We understand how important the restoration of your home or business is to you. Let us offer you the dedicated restoration services you deserve after storms, flooding, fires, or other disasters.
911 Restoration of Austin can Answer Your Property Restoration Questions
It's natural for property owners to have a lot of questions after they experience a major disaster. 911 Restoration of Austin has years of experience handling commercial and residential restoration. Our experts can provide you with the answers you need for questions like:
Can I Find Water Damage Restoration Services Near Me?
911 Restoration of Austin is a locally owned and operated branch of a nationwide company. This means that our technicians live and work right here in Austin, Dripping Springs, and Manchaca. It also means that we can reach your property right away in an emergency.
What Do I Do If My Property Floods in a Disaster?
You should call for professional help if a disaster leads to flooding in your house. Make sure you are safe by staying far away from water that might be electrified. Be especially careful if you think the water might contain contaminants or human waste.
What Can I Expect from the Disaster Restoration Process?
Some property owners worry that their homes or businesses will never be the same after a disaster. In fact, 911 Restoration of Austin takes pride in repairing and renovating properties to return them to better-than-new condition.
Can Commercial Properties Recover from a Disaster?
Commercial disaster repair takes skill and specialized equipment. 911 Restoration of Austin has the experience to restore large and small commercial properties after a disaster. Let skilled technicians take charge so you can get back in business.
Property owners in Austin can get immediate help recovering from a property disaster. Let the skilled technicians at 911 Restoration of Austin inspect your property and begin the restoration process today.