Mold Removal in Austin
Every Austin property owner knows how hot the region can get in the summers. And every Austin property owner knows how wet it can get in the fall and winter. It isn't until a buildup of moisture begins to wreak havoc by causing the growth of mold on walls.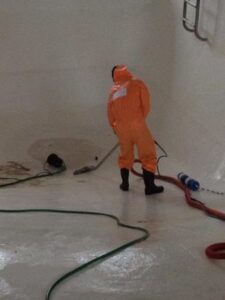 Mold on walls is the last thing on anyone's plate as a homeowner in Austin. That's why the team of experts at 911 Restoration of Austin is there to tackle mold cleanup.
An infestation of moth growth happens in areas of high moisture content. These fungi thrive off of wet areas and attach to the insides of your house where you least expect them. And that's why most property owners don't even know they have a mold problem inside their own house they live in. It's a tricky situation to deal with.
When left untreated or misdiagnosed – mold growth can cause serious health problems to all property inhabitants. Serious illnesses such as asthma, wheezing, headaches, allergies, to organ failure in some severe cases. Why risk ending up in the hospital over the laziness of not getting a property mold inspection?
If you're within the general vicinity of Austin, Dripping Springs, or Manchaca areas – we'll drive out to you for free. We'll inspect your property with a no-obligation mold inspection to give you the peace of mind you deserve.
This is why we advise every Austin property owner to get a mold inspection performed by a professional. They know exactly what to look for.
Thankfully the friendly team at 911 Restoration of Austin is certified to the highest standards and education. You can count on us for your mold damage repair needs anytime you need us. Call us at (512) 729-6436 and please allow us to offer you a free visual inspection. We provide you mold removal service in Austin.
In fact they'll be there within 45 minutes for fast and reliable service you can count on. Because we know dealing with property damage like mold growth can cause despair. 
So put mold damage to a complete stop with a mold inspection. You'll soon be on your way to a Fresh Start the moment you do.
Fast Mold Remediation in Austin You Can Count On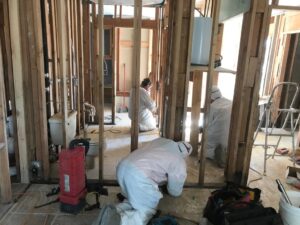 We take mold remediation seriously at 911 Restoration of Austin. The moment our mold experts arrive at your Austin property, a thorough assessment begins. They'll be inspecting every square inch so nothing gets missed. The last thing we'd want you to have is more mold growth with a problem never fixed.
Key signs that will be noted for obvious signs of mold growth are burst pipes, flooded basements, or black splotches.
Then our mold remediation technician will go over every detailed finding to give you clarity.
If you choose to move forward with the mold remediation process, state-of-the-art equipment will be used to dry all wet sources. Your belongings and other contaminated items will then be cleared from further damage.
Why put your health and the people around you at risk not knowing if your property has mold growth? Have peace of mind with a free mold inspection to know for sure your space is safe and healthy to live in.
Our mold remediation specialist in Austin will sure be there to help you every step of the way. Call us at (512) 729-6436 and learn how we can help.
Mold Removal in Austin With a Fresh Start
No property owner in Austin, Dripping Springs, Manchaca, or surrounding areas should have to live in fear of mold. Dealing with the uncertainty of mold can be scary, but it doesn't have to be with professionals who have your back.
A Fresh Start begins the moment you give us a call to tackle your mold growth needs.
IICRC-certified team of experts trained to the highest mold remediation protocols

Help 24/7/365 days a year anytime you need us

A 45-minute guarantee after every call you make

A seamless and worry-free experience from beginning to end

Top-notch protocols and equipment to tackle all signs of mold growth
We've helped thousands of customers across the region who were once in your shoes with mold infestation. Now they're living in a house free of mold where they can safely eat, sleep, and work. 911 Restoration is the best service provider company in over all mold remediation business in Austin.
Your path to a Fresh Start begins with a free mold inspection today.
Give the team at 911 Restoration of Austin a call today and they'll be there within the next 45-minutes!
Call us at (512) 729-6436 and learn how we can help. We provide full-service for mold damage restoration in Austin.