About Us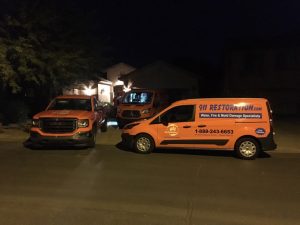 We Provide You with a Fresh Start
Community matters to all of the technicians at 911 Restoration of Austin.
Fires, floods, and other property disasters can seem overwhelming if you don't get help. Our professional techs understand what it takes to restore and repair all commercial and residential property damage.
You can count on 911 Restoration of Austin to ensure you get a Fresh Start after suffering from property damage. Let us work to bring your property back into a condition that is even better-than-new.
You Can Minimize Water Damage to Your Property
Sometimes, you can ensure you don't experience water damage by taking proactive steps. Our staff value your peace of mind and advise that you protect your home or business by:
Preparing for Hurricanes and Tropical Storms
Austin residents are used to dealing with hurricanes coming up through the Gulf. You can take steps to protect your property by:
Closing Storm Shutters Over Your Windows
Blocking Floodwaters by Sandbagging Doors
Cleaning Out Gutters to Deal with Excess Rain
 
Preventing Pipe Blockages
You can stop many plumbing problems from starting if you treat your pipes the right way. Avoid pouring grease down your drains to prevent clogs in the plumbing lines.
If you still experience water damage, 911 Restoration of Austin can reach your property within 45 minutes of an emergency call to start the restoration process.
Get the Help You Need from Dedicated Professionals
Sometimes, there is no way to prevent damage from water, fire, mold, or sewage backups. 911 Restoration of Austin can help you take on any property damage emergency. Our crews are available 24/7/365 to property owners around Austin.
You can contact 911 Restoration of Austin if you need help handling:
Water Extraction and Removal
Property Drying and Dehumidification
Water Damage Restoration
Fire Damage Restoration
Sewage Backup Cleanup
Mold Removal and Remediation
Commercial Property Restoration
And More!
Our technicians are all IICRC certified to take care of your property restoration needs. We are licensed, bonded, and insured to restore your property to the perfect condition you deserve.