Commercial Restoration
Commercial property owners can suffer serious consequences to their livelihood if they experience:
Water Damage
Fire Damage
Mold Infestations
Sewage Backups
Addressing property damage quickly can get your business back up and running quickly. 911 Restoration of Austin understands how important it is that you get the help you need to recover from commercial property damage right away. That's why you can contact us 24/7/365 to get help from IICRC certified commercial restoration technicians.
Our restoration company is locally owned and operated, allowing technicians to reach your business within 45 minutes of an emergency call. Once we arrive on the scene, we can offer a free visual inspection for property owners only.
The same day service you can count on from 911 Restoration of Austin means you won't have to worry about the damage caused by flooding, fires, sewage backups, or mold growth for long. 911 Restoration has the experience and equipment to take care of commercial property damage. Contact us today so the staff can get to work restoring your business to pristine condition.
Business Owners in Austin Can Get Comprehensive Restoration Services
There are many disasters that can impact commercial properties around Dallas, Dripping Springs, and Manchaca. 911 Restoration of Austin is prepared to help you handle:
Commercial Fire Restoration
Fires can be caused by many factors, including faulty wiring. Restaurants may be at an especially high risk for fires, due to the stoves, grills, and fryers that they use. 911 Restoration of Austin can help you recover from any commercial fire damage, by:
Repairing and Restoring Your Business
Removing Smoke, Soot, Ash, and Odors
Cleaning All Surfaces and Furnishings
911 Restoration of Austin can even directly bill your insurance company, after offering you a free insurance consultation at the start of the commercial restoration process.
Commercial Water Restoration
Floods, major storms, burst pipes, and plumbing backups can all lead to commercial water damage. You can contact 911 Restoration of Austin right away if your business ends up underwater. Our techs offer:
Fast Water Extraction
Dehumidification Services Designed for Businesses
Total Water Damage Restoration Services
911 Restoration of Austin can even check for mold growth if your business experienced water damage. Moisture can give mold the foothold it needs to spread quickly. Checking for mold and handling mold removal quickly can save your business from further restoration costs in the long run.
Commercial Mold Removal
Mold can cause serious issues for businesses, as it often leads to bad smells, unsightly blemishes on walls, and health issues. 911 Restoration of Austin handles commercial mold infestations by:
Removing Mold
Disinfecting Your Commercial Property
Dehumidifying Your Business so Mold Will Not Return
Make sure you contact 911 Restoration of Austin immediately if you spot mold in your business. Visible mold often indicates that there is a larger infestation you cannot see. Mold spreads quickly if left alone, so let us charge into action now.
Commercial Sewage Backup Cleanup
Many commercial properties have multiple bathrooms that see a lot of use. This can increase the odds that you'll face a sewage backup. Raw sewage can lead to water damage, foul odors, and risks to your health.
It is important that you reach out to a sewage cleanup company like 911 Restoration of Austin if your business experiences a sewage spill. Our technicians have the safety gear and equipment to remove sewage, disinfect your property, and return your business to perfect condition.
We Can Begin the Commercial Restoration Process Right Away
You can lose money every day your business is shut down after a disaster. 911 Restoration of Austin understands how important it is to get your commercial property back into better-than-new condition quickly. However, we don't believe in cutting corners during the commercial restoration process.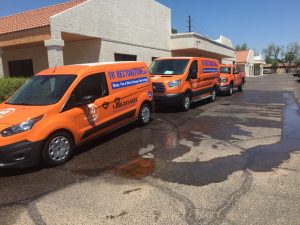 As a full-service restoration company, 911 Restoration of Austin can handle all types of commercial property damage, including issues caused by:
Burst Pipes
Frozen Pipes
Mold Growth
Fire Damage
Puffback
Sewage Backups
Our technicians are licensed, bonded, and insured to provide you with the highest quality restoration services available. We can draw on our resources as a nationwide company to handle large commercial restoration projects, regardless of how severe they may appear at first.
You can feel confident that your commercial property will be completed restored after a flood, a fire, or another emergency by contacting 911 Restoration of Austin. Let technicians head out immediately to assess the damage and come up with a restoration plan. Your property will be repaired and restored to the perfect condition you deserve.