Commercial Restoration in Austin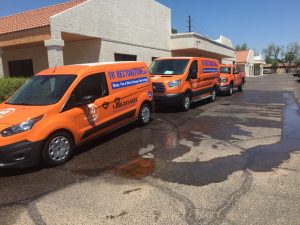 At 911 Restoration, we value the businesses that prop up our local economy and keep Austin strong. Commercial restoration is more than a job to us. It's our responsibility to the community we love.
We provide commercial restoration in Austin, Dripping Springs, and Manchaca. Our comprehensive services include:
Water removal

Water damage restoration

Structural drying

Sanitization and disinfection

Mold remediation

Smoke cleanup

Sewage removal

And much more
Our water damage restoration crew is here for you 24/7, and we guarantee an arrival time of 45 minutes or less. Whatever your disaster is, you can count on our highly trained workers to provide everything you need for a Fresh Start. We provide biohazard cleaning and commercial restoration services in Austin.
We know that a water damage emergency isn't just an inconvenience for a business owner. It's a threat to your livelihood and the company you've worked so hard to build. We hold ourselves to the highest standard of service. Our technicians do everything necessary to make your commercial property feel as strong, clean, and beautiful as the day you moved in. That includes extensive structural repairs.
911 Restoration of Austin is licensed, bonded, insured, and IICRC certified. We have the resources and education of a nationwide company, and the Austin branch is locally owned and operated. We believe in serving our neighbors with compassion and transparency. For this reason, we offer a free visual inspection (for property owners only) and a free insurance consultation. 
Whether you're dealing with a sewage backup, fire damage, or a water damage emergency, your greatest asset is at stake. Don't put your precious property in the hands of just any contractor. Call the commercial restoration company that genuinely cares about your recovery and wellbeing.
Call 911 Restoration of Austin.
24-Hour Emergency Commercial Water Extraction
From sewage backups to storm damage, you can count on 911 Restoration for a swift response to your water damage emergency.
Our water damage restoration experts arrive in 45 minutes or less, day or night, weekday or weekend. They promptly survey the damage to determine the best course of action. If any of your inventory or belongings are at risk, our water removal crew packs out and stores those items. Then, they proceed with the necessary flood cleanup service. 
They take care of you no matter what caused your water damage emergency. Our crew handles water removal, boarding up, storm repair, leak detection and commercial roof restoration in Austin. They work fast to minimize your damage and limit your expenses.
Once they've completed water removal, our water damage restoration workers bring in fans to dry out the structure. They also sanitize your space as needed—a service that's absolutely crucial in the event of sewage flood.
When your space is dry and disinfected, our water removal experts test the structure for damages. A water damage emergency may have many long-term consequences, including staining and rotting. If any of your structures or materials are compromised, our technicians manage the repairs themselves. You don't have to worry about hiring another contractor.
Our staff even conducts a thorough mold inspection. Mold poses a wide range of potential dangers for your property, your employees, and your customers. Our goal is to eliminate such risks at the first sign of an infestation. Your dedicated water damage restoration experts also happen to be certified mold specialists. They take care of all your needs for commercial mold remediation in Austin.
At 911 Restoration, we believe every disaster is an opportunity for a Fresh Start. Call us for full-service water damage restoration in Austin, Dripping Springs, or Manchaca.
The Best Source for Reliable Commercial Restoration and Disaster Recovery
There's a reason you have succeeded in business. You set high expectations. You don't waste time with unreliable partners or vendors. And you value integrity and transparency.
We share those values, and we work hard to earn the trust and esteem of professionals like you.
Our commercial restoration staff provides all the answers you seek before asking you to commit to our services. This includes our free visual inspection (for property owners only). A member of our team surveys your damage and lays out all your options in clear terms. They work with you to find the course of action that best fits your goals, needs, and budget.
We also know how important it is to maintain financial clarity. Take advantage of our free insurance consultation. "Commercial restoration" can mean many things, from water removal to soot and smoke cleanup. If you don't know whether your insurance covers the exact services you require, we find the answer for you. We even provide assistance with inventory and loss itemization. Then, we file your claim for you and bill your provider directly… one less thing to fuss with as you focus on getting back to work.
Commercial restoration can be easier and faster than you think. Call our IICRC certified 911 Restoration of Austin for the service you deserve. We provide service for commercial sanitation in Austin.
Serving the communities of Austin, Barton Creek, Dripping springs, Downtown Austin, Manchaca, Pflugerville, Travis Heights, West Lake Hills and surrounding areas.