Sanitization Services in Austin
Concerns about the coronavirus – or COVID-19 – are increasingly prominent in Austin. As this virus continues to spread, everyone must do their part to reduce its impact. According to the Centers for Disease Control and Prevention (CDC), practicing good cleaning procedures is very important when handling COVID-19.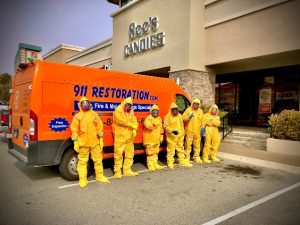 You can take precautionary actions to handle coronavirus in Austin. Taking steps like limiting your contact with other people and regularly cleaning your home or business can help you maintain your peace of mind. Business owners can also show their customers that they are taking the COVID-19 outbreak seriously by focusing on sanitization and disinfection in Austin.
You can get fast help with professional sanitization services in Austin. Cleaning and disinfection techs at 911 Restoration of Austin are on-call 24/7/365. All our techs are IICRC certified to take care of cleanup using current protocols issued by the CDC and the Environmental Protection Agency (EPA). Call us at (512) 729-6436 and please allow us to offer you a free visual inspection. We provide you covid 19 cleaning services in Austin.
Focus your attention on keeping your office or retail store sanitized and disinfected as coronavirus continues to spread. Take charge by contacting 911 Restoration of Austin to speak with trained and experienced sanitization specialists. We are ready to clean your residential or commercial property. Start office deep cleaning today.
Schedule Disinfection Services for Coronavirus in Austin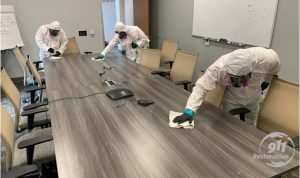 You don't have to try to handle sanitization and disinfection services in Austin on your own. The professionals at 911 Restoration of Austin are standing by to provide you with the assistance you need. Cleaning and disinfection specialists are trained to follow the guidelines provided by the CDC when sanitizing homes and businesses in your area. 
Keeping your office space or retail property clean can help your employees and customers feel more comfortable during the COVID-19 pandemic. Setting up a regular schedule for sanitization and disinfection is easy with 911 Restoration of Austin. We're ready to handle clean-up for your residential or commercial property. If you search best covid 19 cleaning companies in Austin, call us at (512) 729-6436 and learn how we can help you.
Some businesses have chosen to shut down in order to combat the spread of the coronavirus. 911 Restoration of Austin can offer you sanitization services while your business is closed. Getting professional cleaning services can help you feel comfortable reopening your doors to the public as we move forward.
Make sure you are doing all you can to help control coronavirus here in Austin. Reach out to IICRC-certified 911 Restoration experts in Austin to get assistance from professional sanitization and disinfection techs who will put your needs first during the clean-up process.
Call us at (512) 729-6436 and learn how we can help.