Water Damage in Austin
911 Restoration of Austin
There is no city like Austin. From an incredible music scene to rich local history, our community has something for everyone. As a locally owned and operated business, 911 Restoration of Austin cares deeply about preserving our little piece of the world. That's why you can expect the very best residential and commercial restoration from us.
WEATHER ALERT:
City of Austin and the state of Texas is currently experiencing widespread power outages, and road closures due to the unprecedented snowstorm. 911 Restoration of Austin is here to help all of our neighbors. If you are in need of water damage repair, or disaster restoration services, call us now. We will be at your property within 45 minutes and get you taken care of. We are all in this together.
911 Restoration provides 24-hour emergency restoration with a guaranteed arrival time of 45 minutes or less. We're here for you in every disaster, providing everything from fire cleanup to water damage restoration in Austin, Dripping Springs, and Manchaca. We are IICRC certified, insured, licensed, and bonded. Every member of our restoration staff has been thoroughly trained to meet the highest standard of service.
We go beyond water removal and mold cleanup to provide comprehensive service. Our technicians serve you with compassion and transparency, doing all they can to offer peace of mind. Their ultimate priority is to give you a Fresh Start. That's why they not only handle cleanup, but also structural repairs and mold remediation.
Our staff realizes that the cost of property restoration is a major concern for homeowners and business owners alike. That's why we do everything possible to keep costs low. We also provide a free visual inspection (for property owners only) and a free insurance consultation. You always know what to expect in terms of services and costs. We even file your insurance claim for you.
Whether you're dealing with a pipe burst, puff back, or storm damage, you can turn to us for the service you deserve. Call 911 Restoration of Austin today.
Water Damage Restoration
If you have water damage, you need help fast. Standing water can cause a wide range of problems, from rotting to mold contamination.
Trust 911 Restoration of Austin to take your water disaster as seriously as you do. Our water damage restoration crew is here for you 24 hours a day, 365 days a year. They respond with urgency, arriving at your home or business in 45 minutes or less.
Our water damage restoration service is truly comprehensive. Our technicians manage boarding up, roof repair, water and sewage removal, sanitization, structural drying, and repairs. They even handle mold removal and store any unharmed belongings for safekeeping during flood cleanup.
Along the way, they communicate clearly and serve you with compassion. It doesn't matter if you're recovering from a flood or trying to understand why your ceiling is wet. We have the answers you seek and the solutions you need for a Fresh Start.
Call 911 Restoration for speedy assistance with water damage in Austin, Dripping Springs, and Manchaca.
Service area map
Sanitization Services & Disinfection Solutions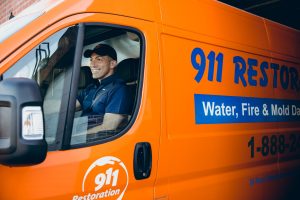 The responsibility of maintaining a sanitized property can be overwhelming and confusing. Commercial property owners carry an especially heavy burden. With both employees and members of the public passing through your space, there is a lot of pressure to keep your property clean.
911 Restoration of Austin is here to help. Our sanitization technicians are trained to follow EPA and CDC protocols. They disinfect all types of spaces, from historical homes to vast retail facilities. These experts are always up-to-date on the latest standards for commercial sanitization. They can help you maintain a regular disinfection routine, which enables you to offer peace of mind for your staff and guests.
We at 911 Restoration want you to consider us a resource in challenging times. For deep cleaning and sanitization, call us today.
Mold Removal
Mold is a tricky organism. Fungus can spread from one end of your property to the other through airborne spores. It thrives in darkness, often spreading before you even realize it's there. And as mold eats away at your property, it also releases dangerous particles into the air you breathe.
As insidious as mold is, it's still no match for the mold removal crew at 911 Restoration. Our experts conduct a thorough mold inspection to uncover every trace of hidden growth. They perform mold removal using the safest and most effective methods. Then, our mold remediation workers dehumidify the structure itself, significantly reducing your odds of recurring growth.
The mold removal crew at 911 Restoration even repair or replace any compromised materials, from carpet to drywall.
Mold is only a major problem if you go too long without mold removal. Call 911 Restoration of Austin and let us take care of this issue right away.
Sewage Backup Cleanup
When you're struck with a sewage backup, you want that mess off your property as soon as possible.
We understand. That's why we're here for you 24/7/365. Our sewage backup technicians treat your emergency as urgently as if it were their own property at stake. They're at your door in 45 minutes or less, ready to launch into sewer water removal.
Our sewage backup cleanup services are comprehensive. We don't just get rid of black water; we look at the big picture. Our technicians pack out and store at-risk belongings to keep them safe. They work swiftly to remove sewage and minimize damage. Our crew sanitizes your space and inspects for mold. Finally, the sewage restoration staff tests for structural weakness and repairs any damages.
A sewage backup can make your property feel contaminated. Our sewage restoration service makes your home or business new. 
For full-service sewage cleanup in Austin, Dripping Springs, and Manchaca, call 911 Restoration today.
Fire and Smoke Damage Restoration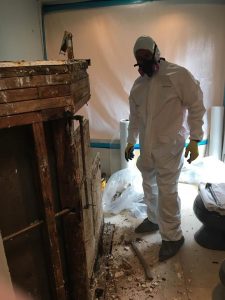 Whether you've had a puff back or a property fire, call 911 Restoration for full-service fire and smoke restoration. Our fire damage restoration technicians work with compassion and focus, doing whatever it takes to give you a Fresh Start.
These experts cover all aspects of the fire damage restoration so you never have to call another contractor. They handle smoke removal and odor removal. They clean your dishes and furniture. They even manage flood cleanup and mold removal if your property was soaked by the fire department.
Our fire damage restoration service also includes extensive structural and surface repairs. In short, we make your home or business brand new. Along the way, our fire cleanup professionals are here to answer your questions and provide clarity. That includes a free fire damage assessment (for property owners only) and a free insurance consultation.
You don't have to get through this alone. For the very best fire damage restoration in Austin, Manchaca, and Dripping Springs, call 911 Restoration.
Disaster Restoration
If you've been through a property disaster that's so unusual, complex, or extensive that you don't know who to call…
…call 911 Restoration of Austin.
Our IICRC certified staff has been trained for every property nightmare, from fire to flood. These disaster restoration experts can handle the entire job, including water removal, smoke cleanup, and structural repairs. We have all the necessary equipment to ensure our staff can work safely in a variety of disaster scenarios. 
Above all, we serve you with empathy and understanding. We know an unexpected property disaster puts your greatest asset at risk and can upend your life. Our goal is to provide peace of mind in addition to stellar service. We even offer a free insurance consultation and inventory assistance to help you navigate the complicated insurance process.
With 911 Restoration of Austin on your side, this isn't the end of the world; it's a new beginning. Call now for a Fresh Start.
Commercial Restoration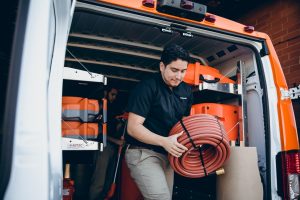 Whether it's a pipe burst or a puff back, you need solutions immediately. A commercial property disaster can force you to close your doors or interfere with your ability to serve your customers fully.
We at 911 Restoration of Austin value the businesses that make our community strong. We're here for you 24/7, doing everything possible to help you overcome this temporary crisis. Call us now, and our emergency restoration crew will be there in 45 minutes or less.
Our commercial restoration staff handles everything from water damage restoration and mold remediation to fire cleanup. They work swiftly and operate with total transparency. You always know what to expect in terms of services and costs. We also provide a free insurance consultation, explaining your coverage in clear terms. 
Our goal is to offer fast, thorough solutions so you can get back to work as quickly as possible. Call now for the service you deserve.