Sanitization Services & Disinfection Solutions
911 Restoration of Austin
The coronavirus pandemic has not only swept the nation, but it's also affected the entire world. As such, every single business and individual has become affected by the situation. For this reason, it's important for everyone to do their part during such a troubling time. One thing everyone can do to contribute is to maintain their personal hygiene.
Property owners can represent a large part of the solution by making sure their buildings remain sanitized according to the latest protocols. By doing so, they're able to ensure the people who come and go stay as protected as possible. That's why 911 Restoration of Austin is ready and willing to provide sanitization services in addition to various disinfection solutions for both residential and commercial properties. Each of our technicians maintains their training to make sure they're fully compliant with all current CDC and EPA protocols in an effort to deliver optimal results with our sanitization services. As part of the Austin community, you can count on us to be there for our residents with top-tier sanitization services to deliver peace of mind.
Service area map
Water Damage Emergency Services
Are you facing a property disaster around the Austin area? You can get immediate help handling:
Basement Flooding
Burst Pipes
The Damage Caused by a Fire
Mold Growth
Sewage Backups
Appliance Malfunctions
911 Restoration of Austin can provide you with comprehensive disaster restoration services, no matter what disaster you are facing. Our staff of highly trained technicians can reach properties around Austin, Dripping Springs, and Manchaca within 45 minutes of an emergency call.You do not have to try to face the challenges associated with property restoration on your own. 911 Restoration of Austin can help you get a Fresh Start after you experience water damage, fire damage, mold growth, or other property disasters.
The technicians can begin restoring your property right away with same day service. You can count on the restoration professionals to work aggressively to repair and restore your home or business. Find out exactly how we can help you by contacting us any time of the day or night.
Client Testimonial
Sherry M.
"I would give them 6 stars if I could. I had to deal with a flood in my business, an absolute nightmare for every business owner. [911 Restoration] came right away, and they are so professional and efficient. Even after everything was done they followed up and made sure everything was back to normal. A+ customer service. Thank you!"
Water Damage Restoration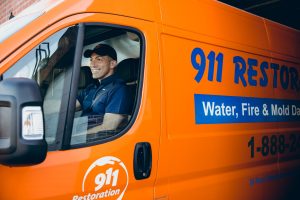 Water damage can have many causes. Property owners in Austin, Manchaca, and Dripping Springs can get professional help handling:
Broken Water Pipe Repair
Leaking Wall Repairs
And More….
911 Restoration of Austin can take on any water damage restoration challenge. The property restoration techs have the experience to help you get a Fresh Start by handling:
Water Extraction and Removal
Drying and Dehumidification
Water damage restoration can also involve cleaning and disinfecting your home or business. You can get help handling damage caused by hurricanes, floods, and tropical storms. 911 Restoration of Austin can also take on plumbing disasters, appliance leaks, and more.
Contact us today to get help within 45 minutes of an emergency call, anywhere in the Austin area.
Mold Removal
Many property owners only notice they have a mold problem after the mold has spread throughout their home or business. Visible mold typically indicates a larger infestation that is hidden where you cannot see it.
911 Restoration of Austin has the technology to locate mold wherever it is growing in your property. The mold specialists can provide you with a free visual inspection for property owners only. 911 Restoration of Austin even works with a 3rd party laboratory to identify the type of mold you are dealing with.
Mold removal typically involves:
Quarantining the Infested Area to Prevent the Spread of Mold
Using Air Filters to Clean the Air
Removing Mold and Mold Infested Items
Cleaning and Disinfecting Your Property
911 Restoration of Austin is a full serve mold removal company. We can handle mold in your house or business. Call us now to ensure the mold removal process is completely quickly and thoroughly.
Fire Restoration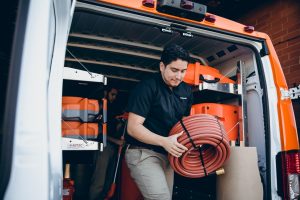 Storms and floods can cause serious damage to a property. Home and business owners in Austin, Dripping Springs, and Manchaca can also be impacted by fires. Fires can leave behind:
Smoke Damage
Soot and Odors
Fire Damage
Water Damage from Sprinklers and Fire Hoses
911 Restoration of Austin's fire damage restoration techs can help you recover from a fire. You can count on us to completely handle odor removal, smoke removal, and soot removal. Our staff takes care of all aspects of fire damage restoration using cutting edge technology like sodablasting.
As a full-service company that cares about you, 911 Restoration of Austin can also help:
Pack Out and Store Your Possessions
Provide You with an Inventory Listing
Directly Bill Your Insurance
You deserve to get your peace of mind back after a fire. Contacting the fire damage restoration professionals at 911 Restoration of Austin can be the first step to returning your property to perfect condition.
Sewage Cleanup
Property owners in Austin sometimes have to deal with sewage backups. Sewage can backup if your pipes become clogged. Some sewage systems will also back up after a major storm with high flooding.
911 Restoration of Austin can handle sewage cleanup in any situation. You can contact us 24/7/365 if you are experiencing a sewage backup emergency. Let our techs spring into action to:
Remove the Sewage from Your Property
Clean and Disinfect Your Home or Business
Sewage backups can endanger your health and well-being, while causing destruction to your home or business. Get professional help handling sewage backup cleanup by calling 911 Restoration of Austin today.
Disaster Restoration
Disasters can strike at any time. Austin, Manchaca, Dripping Springs, and surrounding areas are often hit by tropical storms and hurricanes. These major storms can cause flooding, break windows, and cause additional damage to your home or business.
911 Restoration of Austin can help right away if you are experiencing a property disaster. Our workers are licensed, bonded, and insured to handle:
Emergency Roof Repairs
Emergency Boarding Up
Emergency Storm Repairs
Disaster restoration requires you to work with a company you can trust. You can count on 911 Restoration of Austin to be there when you need us. 911 Restoration of Austin is locally owned and operated, allowing us to reach your property immediately when you need help.
Call us today if you need any disaster restoration services.
Commercial Restoration
Both homes and businesses can be impacted by disasters such as:
Flooding
Fires
Sewage Backups
Mold Infestations
The IICRC certified technicians at 911 Restoration of Austin are trained to handle residential and commercial restoration, including fire damage restoration. We understand the special needs of commercial property owners. Your livelihood can depend on ensuring your business is returned to perfect condition as quickly as possible.
911 Restoration of Austin will work tirelessly to restore your business, regardless of the damage you have suffered. The staff provides same day commercial restoration services to property owners throughout Dripping Springs, Manchaca, and Austin.
You can get a free visual inspection for property owners only from our commercial restoration professionals. 911 Restoration of Austin can work with any insurance company, making the commercial restoration process that much easier for you.
You can get help handling any property restoration challenges you are facing by contacting 911 Restoration of Austin right now.