Warm Winter Days – Is It A Water Damage Risk Or Nothing To Worry About?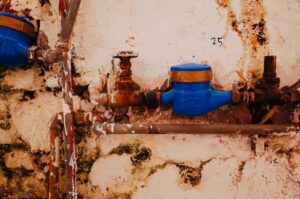 Our houses and structures are designed to face the vagaries of extreme winters. However, collapsing roofs, water that intrudes, freezing and bursting pipes, ice that makes our entrances dangerous, and the damage caused by the climate are unavoidable and happen frequently! Let's discuss some of the water damage risks associated with the winter season!
People living in areas where there's extreme winter experience how extreme and frequent weather conditions can suddenly and accidentally lead to water damage. Below are some of the water damage risks in winter and their origin!
The Origin of Water Damage in Winter!
The causes of water damage are manifold, ranging from flooding to ice damming. It can have multiple origins and affect the movable or immovable property. Water can suddenly enter your home in several ways:
The Pipelines: Beware of Frost!
In winter, the formation of ice inside a pipe presents a major risk of rupture which could cause a major water damage. If you are away for a few days, do not turn off the heat, as the water in the pipes may freeze, the pipes may crack and cause damage. On the other hand, if you are going for a long enough period, turn off the water and drain the pipes.
Water, sewer and septic tank back-ups:  When snow suddenly melts, or it rains heavily, sewers and sumps can fill up too quickly or become clogged, causing water to back up or overflow, worn by interior drains and sump systems.
Watch the Roof Closely
Accumulations of snow and ice put a strain on the roof. When the accumulation exceeds 60 cm (2 ft), you must clear the snow. If possible, do it from the ground up or hire a better-equipped professional to do it. Watch for the formation of ice barriers at the edge of the roof. They are formed when the home gives off heat through the roof. The snow melts, and the water that forms slides down the roof and then freezes. The water that continues to form can no longer flow and seep into the walls and ceilings. If you notice that the top is warping, that cracks appear in the walls, that the doors no longer close properly, do not skimp and have the situation assessed by an expert.
Tips to Prevent Water Damage in winter!
Whether you are closing the cottage for the winter, preparing your home for the cold weather, or planning a winter getaway, these tips will help you stay safe throughout the season. This season, it's easy to feel safe and secure in the shelter of the elements if you follow a few simple suggestions.
Boiler and Stove Safety
Check your boiler or wood stove annually to make sure they are operating without problems. If necessary, have your heat sources inspected and replace the filters according to the manufacturer's recommendations.
Pipe Check
Remember to check your plumbing and periodically run water through all plumbing fixtures to reduce the risk of pipes freezing or bursting when the temperature drops. Also, test all plumbing shutoff valves to prevent damage from freezing or weather damage to the plumbing.
Plumbing Measures for Preventing any Water Damage
Wrapping exposed pipes, if necessary, with an insulating sleeve or insulation blanket helps protect them from extremely cold temperatures and reduces the risk of freezing and bursting. Also, carefully check for any build-up of frost or moisture in your attic and crawl spaces.
Ice Dam Protection
An ice dam is a build-up of ice on the edge of sloping roofs of heated buildings, which forms when sleet hits the edge of the roof and freezes there. This freezing then prevents the melted water from flowing, which enlarges the dam and causes a backflow of the water. This can lead to water ingress into the home, damaging shingles and gutters, and adding excess weight and stress to roofs. While you can take preventive measures to prevent ice dams from forming, remember that TD Insurance also offers additional protection against damage caused by ice dams.
Lane Clearance
Make sure your sidewalks and stairs are clear of snow and ice to ensure the safety of friends and family who come to visit you. Also, remember to clear snow from basement windows, exhaust vents, outlets of gas appliances and dryers to prevent water infiltration or damage.
Removal of Branches
Branches around the home or cottage should be pruned and removed so that they don't fall on electrical wires or telephone lines in the event of an ice storm or heavy snowfall. A little foresight can prevent damage to cables and power lines.
Thus, the causes of water damage are manifold, ranging from flooding to ice damming. It can have multiple origins and affect the movable or immovable property. Although water damage in winter is inevitable and happens frequently, following these tips will give you peace of mind knowing you've done what it takes to better protect your home during winters. However, in case of damage, water pipes freezing or bursting, it is always recommended to call in a professional. 911 Restoration of Austin is here to help.