When to Call a Biohazard Cleaning Company?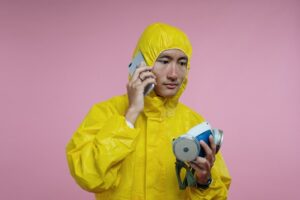 There are certain unfortunate instances when your place needs a professional biohazard cleanup service to ensure your safety. These conditions include severely traumatic accidents, and the place ends up being contaminated with blood, dangerous chemicals, and other toxic contaminations.
Why Do We Need Biohazard Cleanup?
A biohazard cleanup service can safeguard you from exposure to toxic chemicals and dangerous scenarios when hazardous conditions are present in your home or workplace. As part of the cleanup, potentially dangerous chemicals and pollutants may be used. Those that specialize in biohazard cleanup are trained to identify, use, and properly dispose of hazardous materials and debris that could cause harm to you as well as to your family, clients, and employees.
Cleaning up biohazards at a crime scene is an unavoidable need. Pathogens can be spread through the blood and body fluids under such situations; therefore, you should never attempt a biohazard cleanup as a do-it-yourself cleaning project. A biohazard cleanup company like 911 Restoration in Austin can help you get through this difficult time. Here, we'll explore the advantages of hiring a professional biohazard cleanup company.
When Do We Need to Call For Biohazard Cleanup Service?
It is crucial to know that you are calling the right people at the right time when needed. Here is a list of events when you should call for a biohazard cleanup service.
1.     Crime Scene on Your Property
An incident of robbery, burglary, murder, or assault at your home or office will require police authorities to acquire fingerprints and biological samples using chemicals and compounds. But biohazard cleanup crews are well equipped to handle the crime scene cleanup process. They have the tools necessary to spot and remove these substances from a crime scene, leaving your place clean from all the toxins.
2.     Someone Has Died Unattended in Your Home
Unattended death refers to deaths that occur outside of a doctor's immediate care. These incidents can include the death of someone who committed suicide, someone who died peacefully in their house in the presence of their family and friends, or someone whose body has been on the death bed for a long time. Bodily fluids can seep into the floors or furnishings right after death and require biohazard cleaning to ensure that the dead body odors, bloodborne diseases, and pests have been removed from the property to secure from any long-term harm.
3.     After a Suicide or a Traumatic Death
The crime scene may involve a brutal death in certain cases, and several biohazardous materials are left behind. In addition, police are called anytime a death is unattended or suicide is suspected. Anatomical remains and body fluids are also leftover from traumatic deaths. While law enforcement may or may not have been contacted, biohazard cleanup companies like ours have developed ways to locate and sterilize biohazardous objects on your property.
4.     In Need of Assistance Following a Hoarder
As a result of infestations caused by hoarding, a thorough cleaning is required to clear the area from bad odors or disease vectors. Contaminants like blood, urine, or feces from animals and humans create serious property damage and unpleasant odors that require professional cleaning agents, not just sprays, to eliminate the smell. It would be best if you do not try to handle a hoarder cleanup by yourself. Our cleaners wear protective equipment and masks to avoid inhaling hazardous microorganisms. Defective refrigerators and freezers, and other decaying food on the premises also need to be cleaned out.
5.     Bodily Waste Has Flooded Your Property
According to the CDC, Septic system failure and toilet overflow can infect your homes and offices with harmful microorganisms. Special biohazard handling and disposal techniques are required for human body fluids removal, which can detect and clean contaminants like feces and urine to prevent the spread of pathogenic organisms that will ruin your property's worth. Even excrement is no match for Bio Recovery's sanitizing capabilities.
6.     When Communicable Diseases Become a Health Concern
It is advised to call for a biohazard cleanup to avoid putting yourself and your family at risk of catching a deadly disease. If the incident includes a serious illness, standard cleaning methods may spread the contamination further. We at 911 Restoration of Austin make sure that when we enter your home, we are prepared to protect you and your family, as well as our personnel. On the job, our specialists are taught how to protect themselves by wearing specialized PPE and local and federal regulations that govern cleaning and disposing of biohazardous waste.
Biohazard Cleanup Misconceptions
There's a mismatch between what the public thinks biohazard cleaning firms do and what they actually do. Others mistake it for an act of Bio Recovery as an outgrowth of the Centers for Disease Control and Prevention because of the international sign for biohazards that appears on their website. Biohazard cleaning organizations like ours care about your safety and have no connections with Government agencies.
To conclude, we never know when we will need a biohazard cleanup service. It would be best to research and ensure that you will have a professional service provider like 911 Restoration of Austin, just a call away when you need assistance in Austin, Texas.
It would be best if you never attempted to clean up after a crime scene without the right training, tools, and equipment. Our workers are trained and equipped to handle a wide range of situations requiring professional vigilance and skill. We empathize with our customers' needs and arrive at crime scenes immediately.