Water Damage and Mold Removal in Austin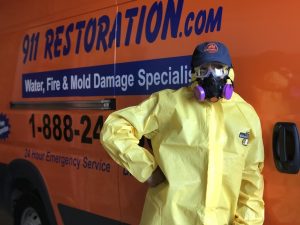 Make sure you are ready to respond to a water damage emergency like a flood, hurricane, or pipe burst in Austin. Get a Fresh Start 24/7/365 by contacting 911 Restoration of Austin for water damage restoration and mold removal services. IICRC certified flood cleanup and mold decontamination techs can:
Arrive at Your Property Within 45 Minutes of an Emergency Call

Perform a Water Damage and Mold Inspection

Take Care of Carpet Water Damage and Sprinkler Water Damage

Repair Leaking and Broken Water Pipes

Extract Water from a Flooded Basement or Crawl Space

Begin Prompt Mold Remediation and Odor Removal

Fully Renovate and Restore Your Home or Business
All property restoration techs at 911 Restoration of Austin are licensed, bonded, and insured to help you after a pipe burst, storm, or sewage backup. Crews stay on-call around the clock, so you never have to wait to get the help you need. Let us give you back your peace of mind by beginning water damage restoration and mold remediation in Austin today.
When Should You Start Water Damage Restoration in Austin?
Water damage caused by a sewage backup, flood, or pipe burst can begin causing damage to your property quickly. This damage can increase as long as water is allowed to remain in your home or business. For this reason, you should start water damage restoration in Austin as quickly as possible.
911 Restoration of Austin is a locally owned and operated flood cleanup and mold removal company. Techs can reach your property in under an hour to start:
Stopping Additional Water from Entering Your Property

Using Pumps to Remove Water

Packing Out and Storing Your Undamaged Belongings

Drying Your Property with Dehumidifiers and Fans

Checking for Signs of Mold with a Mold Inspection

Handling Comprehensive Mold Decontamination
You can recover from any water damage emergency – including pipe bursts – or a mold infestation by contacting us now. Speak with our mold remediation and flood cleanup techs in Austin right now to get started. Crews can take care of property restoration and mold decontamination in Austin today.
Can Austin Mold Remediation Techs Help After a Flood?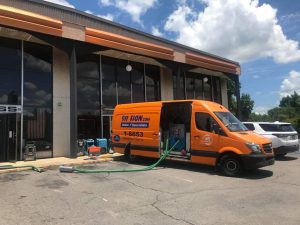 Mold remediation is often necessary after a flood or a pipe burst in Austin. Mold grows quickly in damp environments. This fungus can damage the structure of your property and your possessions. It can also threaten your health. Fortunately, the professionals at 911 Restoration of Austin can wipe it out with mold decontamination.
Water damage restoration crews can check for mold growth with a mold inspection in Austin. Based on the results of your mold inspection, they can:
Prepare a Personalized Mold Removal Plan

Remove Mold Spores with Air Filters

Use Specialized Cleaners to Get Rid of Mold Odors

Clean and Disinfect Items with Mold Growth

Focus on Your Specific Needs
911 Restoration of Austin is a full-service property restoration company. This means that you can count on us to take care of flood cleanup and mold removal in Austin. Contact us around the clock to get a Fresh Start after a hurricane, sewage backup, flood, or pipe burst.
Servicing the cities of: Austin, Dripping Springs, Manchaca, Downtown Austin, Travis Heights, West Lake Hills, Barton Creek, Pflugerville …and surrounding areas.